As you probably know by now*
, I help finish quilts for Kat's charity,
Covered in Love.
Sometimes instead of orphan blocks, she sends me donated fabric. About a year ago, she received a couple of charm packs of green, white and black fabrics with a St. Patrick's Day theme, and she passed them along to me.
*Spelling it out for new readers!
I immediately thought, "Irish fabric! How cute! I simply MUST make an Irish Chain quilt." So I started pairing dark and light squares together and stitching up half square triangles. In a pile next to my Juki, they served as leader/enders for months. I think I made over 100 HSTs before I realized that the Irish Chain pattern doesn't use any triangles.
At all. Not one, much less one hundred sewn over weeks and weeks.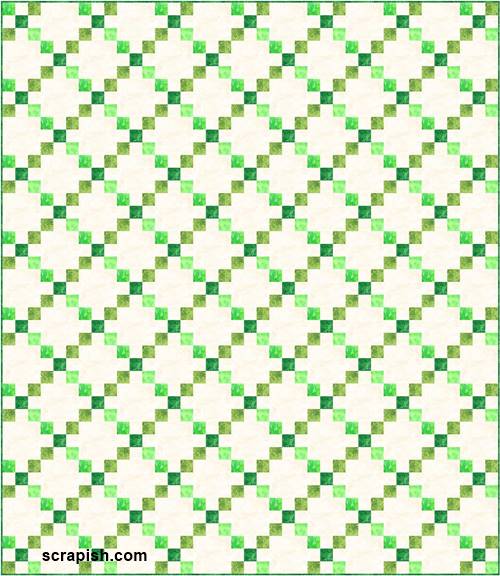 Here's a nice green Irish Chain from
Scrapish.com
. Yup. All squares. Uh-oh.
Clearly I had a different pattern in my brain. I could visualize it clearly, but had no idea what it was called. And do you know how hard it is to find a quilt pattern by just searching on "half square triangles, might be kinda Irish-feeling"?
Then one night I dreamed I drank beer with a guy from Dublin named Jacob, and when I woke up realized that the name of the pattern was Jacob's Ladder.
Whew! Glad I didn't make all those triangles for nothing. After strip piecing the required four patches, I was able to bring my mental image of this quilt to life. I'm so grateful to dream Jacob!
This quilt was fun to finally finish, and I hummed "An Irish Blessing" as I quilted it. It's now on its way to Kat for
Covered in Love
. Have you ever had to search for a pattern without knowing the name? Or have a quilt epiphany in a dream?