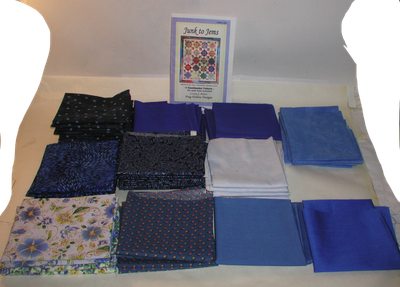 I just saw this "Buy It Now" listing on eBay for 50 fat quarters of blue fabric plus a nice looking pattern:
Quilt Fabric
. About $21 including shipping for over 12 yards of fabric!
Normally I would snap this right up for myself, but I no longer have a good way to receive mail before we leave the country. Maybe one of my readers will find it interesting.
I know nothing about this seller, and it's clear that she doesn't know much about fabric. She says the fabric is from the estate of a quilter. I recognize some of the fabric so at least some of it is 100% cotton, and probably most of it is. The seller decided to cut yardage up into FQs to sell it, maybe because she heard quilters like FQs? Odd to have a listing of multiple FQs of the same fabric, but hey, the price is right.
If you decide to buy it, leave me a comment and I'll update this blog post. Good luck!